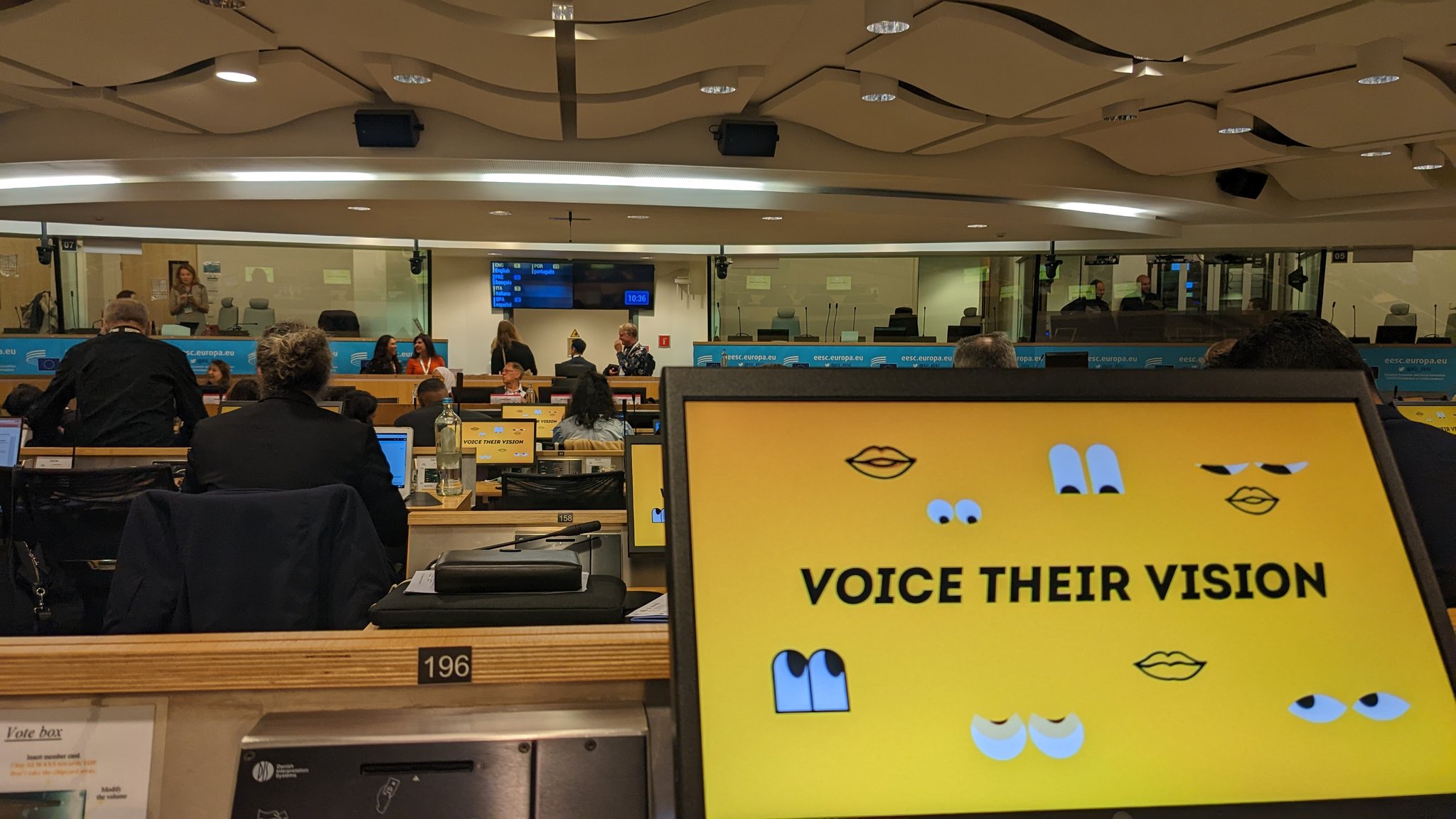 From 20-21 October 2022, along with 200 other organisations from across Europe, UNITEE joined the 7th edition of the European Migration Forum (EMF) that took place in Brussels at the European Economic and Social Committee (EESC). Coinciding with the European Year of Youth in 2022, this year's edition of the EMF was organised under the title 'Youth inclusion: key to successful migrant integration'.
The two-day event featured discussions and workshops around young migrants' perspectives. Participants and speakers included representatives of civil society organisations, networks and collectives representing migrant groups and sectors, European institutions and associations, media organisations and local governments. The organisations joining the Forum brought with them their experience and insights into topics ranging from democracy, participation, gender equality, anti-racism, media and inclusion to education, entrepreneurship, social economy, local democracy and climate action.
🎊We're at the #EUMigrationForum today and tomorrow along with 200 participants from across Europe and colleagues from some of our EU projects – @project_MILE #RIDEproject & #UNITES!

Looking forward to 2 days of debates and workshops on #MigrantIntegration and #YouthInclusion! pic.twitter.com/2nkynyXZFt

— UNITEE (@UNITEE_Europe) October 20, 2022
Debates and workshops focused on migration through the perspective of youth, including how young migrants can be actors of youth inclusion, young migrants' access to education and training, specific challenges and measures regarding integration of young refugees, legal migration, youth mobility education and employment, the participation and engagement of young migrants, public attitudes towards migrants as well as current policy challenges and actions at the European level support migrants and refugees. The European Commissioner for Home Affairs, Ylva Johansson, as well as EESC president Christa Schweng joined the EMF to share their thoughts on the current state of asylum and migration policy in the Europe, the challenges faced by young migrants and how the EU can migrants' integration and inclusion. A debate on the second day also featured remarks by a representative of the Czech Presidency of the Council of the EU.
More information about the speakers of this year's EMF can be found here. 
A special discussion format titled 'The floor is yours' let all participants put forward and vote for additional discussion topics on the first day. The most popular topics where then used for small, parallel roundtable discussions with groups of 5-10 people and allowed for more informal and intimate talks on topics participants were interested in.
Moreover, the EMF programme this year included a performance by the group MIKSI with songs inspired by traditional Albanian, Kurdish or Syrian pieces rearranged by the group's coordinator. During the concert, a networking village allowed organisations to share information about their projects and connect with other participants. UNITEE participated in the networking village with a table displaying information material about UNITEE as well as its projects, in particular MILE – focusing on advancing the local participation of migrants and refugees and their collaboration with municipalities – and RIDE – aiming to advance empowerment and labour market inclusion of migrant and refugee women through digital skills training and job markets.
Last but not least, two new members of the EMF Bureau were elected for the term of one year: Anila Noor (New Women Connectors) and Rudi Osman (Union of Exiled Students – France).
Congratulations to the winners of the Forum Bureau elections @nooranila & @OsmanRudi🎇

Please continue using our platform to enable and grow #EUCivilSociety, for inclusive #MigrantIntegration and #YouthInclusion. pic.twitter.com/otLRR4thKG

— EU Migration Forum (@EurMigrForum) October 21, 2022
---
Hosted by the EESC in cooperation with the European Commission, the EMF is a platform for dialogue between civil society and the European institutions, on issues relating to migration, asylum and the integration of third-country nationals. It brings together, at least once a year, representatives of civil society organisations, local and regional authorities, Member States and EU institutions. In January 2015, the EESC, in cooperation with the European Commission, organised the first edition of the European Migration Forum (EMF). This developed from the European Integration Forum, of which 11 editions took place between 2009 and 2014.
The aim of the EMF is to enhance coordination and cooperation between key players involved in the multilevel European governance of migration. The EMF aims at providing more information on the latest policy developments but also to gather information on how European policies are implemented at regional, local and grass-root levels; it should help improve the understanding of the main challenges that civil society organisations and social partners face in the field and identify ways to better support them in their efforts to address migrants' needs.