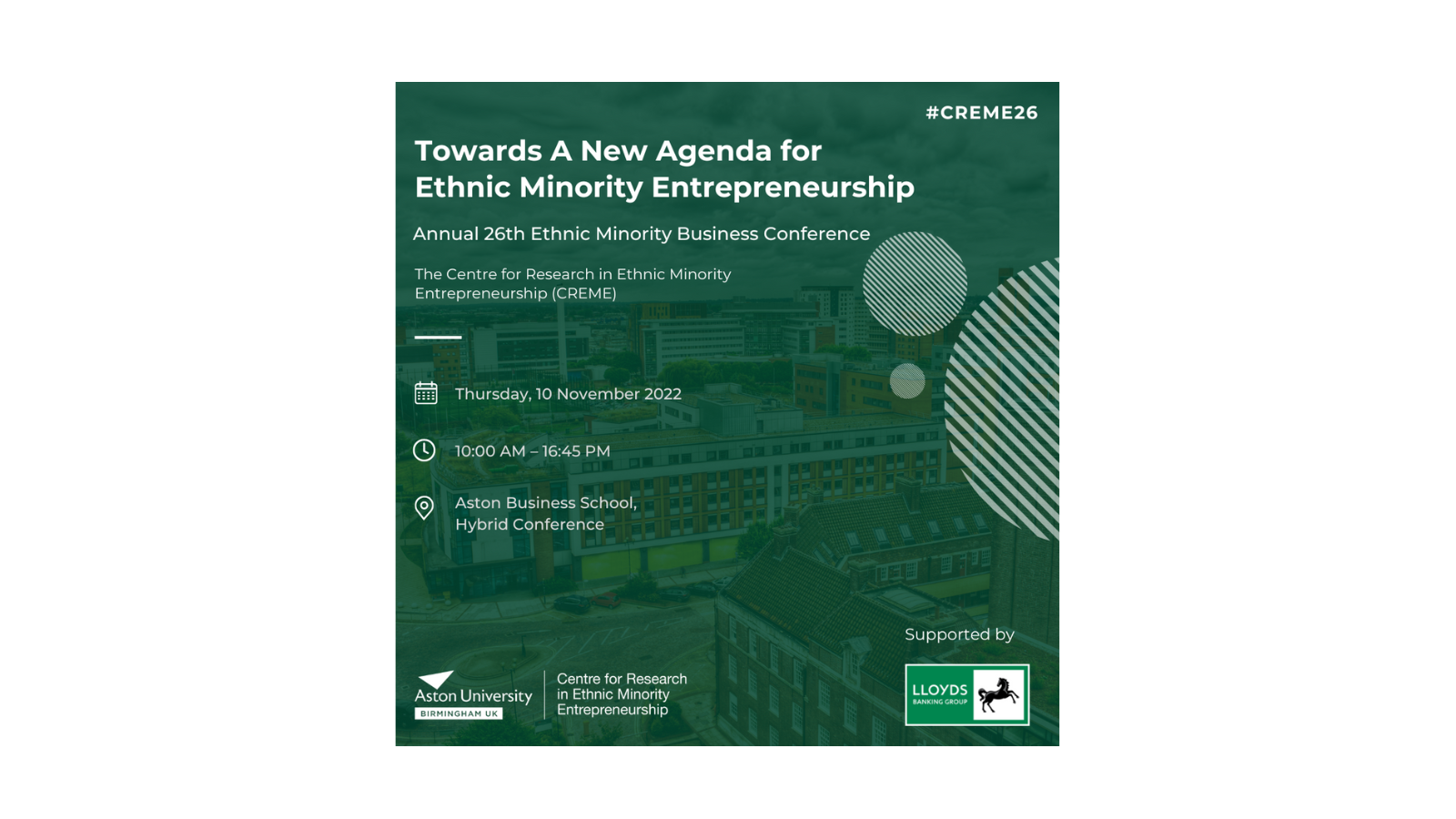 The Centre for Research in Ethnic Minority Entrepreneurship (CREME) is holding the 26th Annual Ethnic Minority Business Conference on Thursday 10th November 2022 from 10:00 – 16:45 GMT/UK time. Supported by Lloyds Banking Group the theme this year is: 'Towards a New Agenda for Ethnic Minority Entrepreneurship'. This year's Annual Ethnic Minority Business conference brings together leading researchers and examples from the world of business support to highlight how we can work together to promote our dynamic and vibrant entrepreneurial community that is genuinely open to all. The conference is hybrid, with capacity for delegates to attend in person at the University and online via Zoom.
For more information and to book your free spot online, please visit the event page.
As part of this year's edition, UNITEE through its project MILE (Migrant Integration through Locally designed Experiences), is holding a session on "European perspectives on Migrant Entrepreneurship" with local insights from Madrid, Athens, Amsterdam and Utrecht on how entrepreneurship can become a tool to promote the inclusion and participation of migrants and refugees in Europe.
The speakers of this session are:
Dr JuanFra Alvarado Valenzuela, Senior Researcher & Educator in Entrepreneurship, Amsterdam University of Applied Sciences; specialised in entrepreneurship, social projects, migration trends, personal connections and cross-cultural bridging.
Antonina Melody Casino, member of DIWATA (Determined Independent Women in Action for Total Advancement) in Athens, Greece; teacher at Munting Nayon Cultural School, a school initially set up to support Filipino mothers, and now also other migrant communities, in accessing the labor market or running a business.

Dr Leendert de Bell, professor for sustainable labour participation of refugees at the Research Centre for Social Innovation (University of Applied Sciences Utrecht), academic staff member at the Centre for Entrepreneurship (Utrecht University) and involved the entrepreneurship program at 'Plan Einstein'

Jennifer Riveiro Ilende, Spanish and Equatorial Guinean lawyer specialised in Immigration and Commercial Law; co-founder and managing partner at the law firm Ilende and Partners in Madrid, Spain
The full agenda of the conference:
Session 1: Grasping the Size of The Prize: The Value of Ethnic Minority Entrepreneurship and An Agenda for Change
Session 2: International Trailblazers – Recognising the Potential of Diaspora Entrepreneurs
Session 3: European Perspectives on Migrant Entrepreneurship
Session 4: Crisis and Renewal in Key Sectors
Session 5: Looking to the Future and Closing Reflections