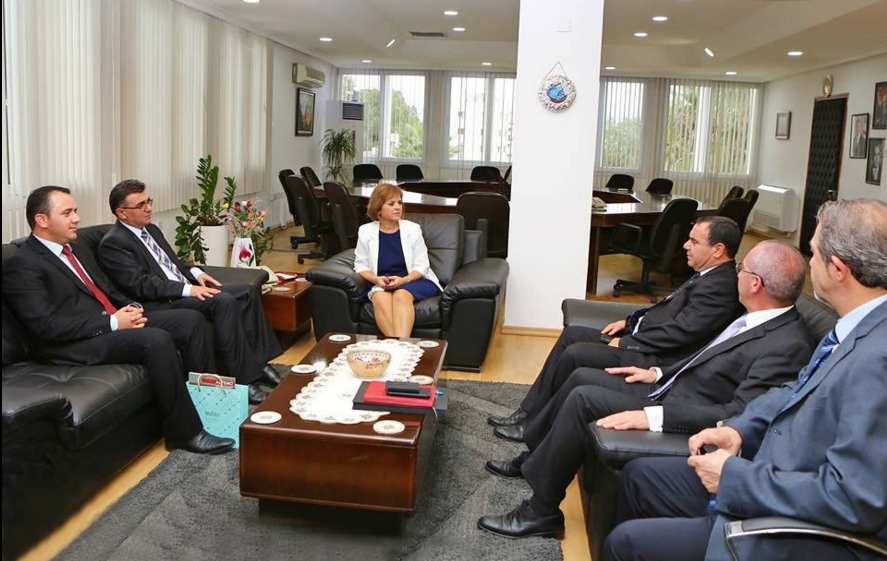 The president of UNITEE, Dr. Kumcu, was invited to a conference organized by Cyprus Turkish Business Council, in cooperation with Turkish Cyprus Chambers of commerce (KTTO). The main focus of the conference on 22nd October 2015 was on Cyprus-EU relations and discussions on the unification of the Turkish and Greek parts.
The focus of the event was on the benefits of the unification while also acknowledging the barriers, and how to overcome them. Dr. Kumcu was invited to Cyprus particularly to inform members of Chamber of Commerce of Nicosia (Lefkoşa), as well as, members of KTIAK about Cyprus-EU relations, and uniting through entrepreneurship. For that reason, the main message delivered on this occasion was that reconciliation could be achieved by uniting business communities in creating bridges between the two parts. Also, the Northern Cyprus businesses could be encouraged to extend their activities to Europe where the state itself is not recognised.
Being the key speaker, UNITEE's President, noted that the respective actions to take here are to prepare Northern Cyprus to do business in Europe, and to integrate Northern Cyprus business associations.  Vice President of Northern Cyprus, elaborated on negotiation with Southern Cyprus, and for the first time since many years, he expressed his optimism that these parties are able to find common grounds and a foundation for mutual understanding. Although, there certainly are a lot of challenges and barriers to overcome. Dr. Kumcu expressed UNITEE's readiness to contribute to responding to those challenges by giving support, in order to help both the Turkish and Greek enterprises of Cyprus to find business opportunities and partners in the EU.
The following day, Dr. Kumcu was invited to meet Mrs Emine Çolak, Minister of Foreign affairs of Northern Cyprus, as well as, Mr Mustafa Akıncı, President of Northern Cyprus. During both meetings, discussions took place on what can be the roles of business or member organisations in building peace through commerce. Following these events, he attended a national, and two private televisions' programs, expressing the importance of contributing to peace through economic activities, to Northern Cyprus citizens.