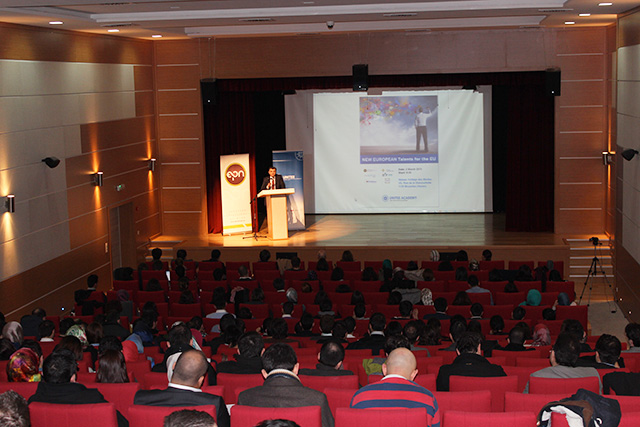 In theory, the European institutions are a place that should provide work opportunities for citizens from each single Member State, no matter the origin, gender or skin colour. In practice, however, the reality still looks quite different. And this can explain why more than 200 participants from four different countries gathered the 2nd of March 2013 at the conference "New European Talents for the EU". The event, which took place in Brussels at the Ecole des Etoiles was organised by UNITEE and its member association, the European Professionals Network (EPN).
Most participants were students or young professionals with a migrant background, also referred to as "New Europeans".
The conference had five speakers:
Mr Adem KUMCU, President of UNITEE
Mr Richard LEWIS, Senior Research Fellow on  Migration and Diversity at the institute for European studies VUB
Mr Lieven TACK, Deputy Chief of the Cabinet of the Flemish Deputy Prime Minister and owner of CALIPA Coaching
Mr Lucia SMIT, Career Coach, Trainer and Consultant at Braingain
The importance of New European Talents
Europe will be able to benefit from the skills of New European citizens. Indeed, they have a better understanding of different cultures; they know how to overcome differences and focus on the common values in order to obtain and build a more egalitarian society.
In agreement with Mr KUMCU's assertion, Mr Lewis believes that immigration far from being the end of European culture is the new beginning. It is crucial to use each individual's skills since diversity boosts innovation more easily.
Tips and Tricks
The students and young professionals were given advice on how to enter and excel in a career at the EU institutions, a career that for young people is quite difficult to reach, especially in light of the current economic crisis. Both Mr TACK and Ms SMIT lectured the students on how to be an efficient and correct employee, with the aim to professionalise the young New Europeans.
View our gallery here.