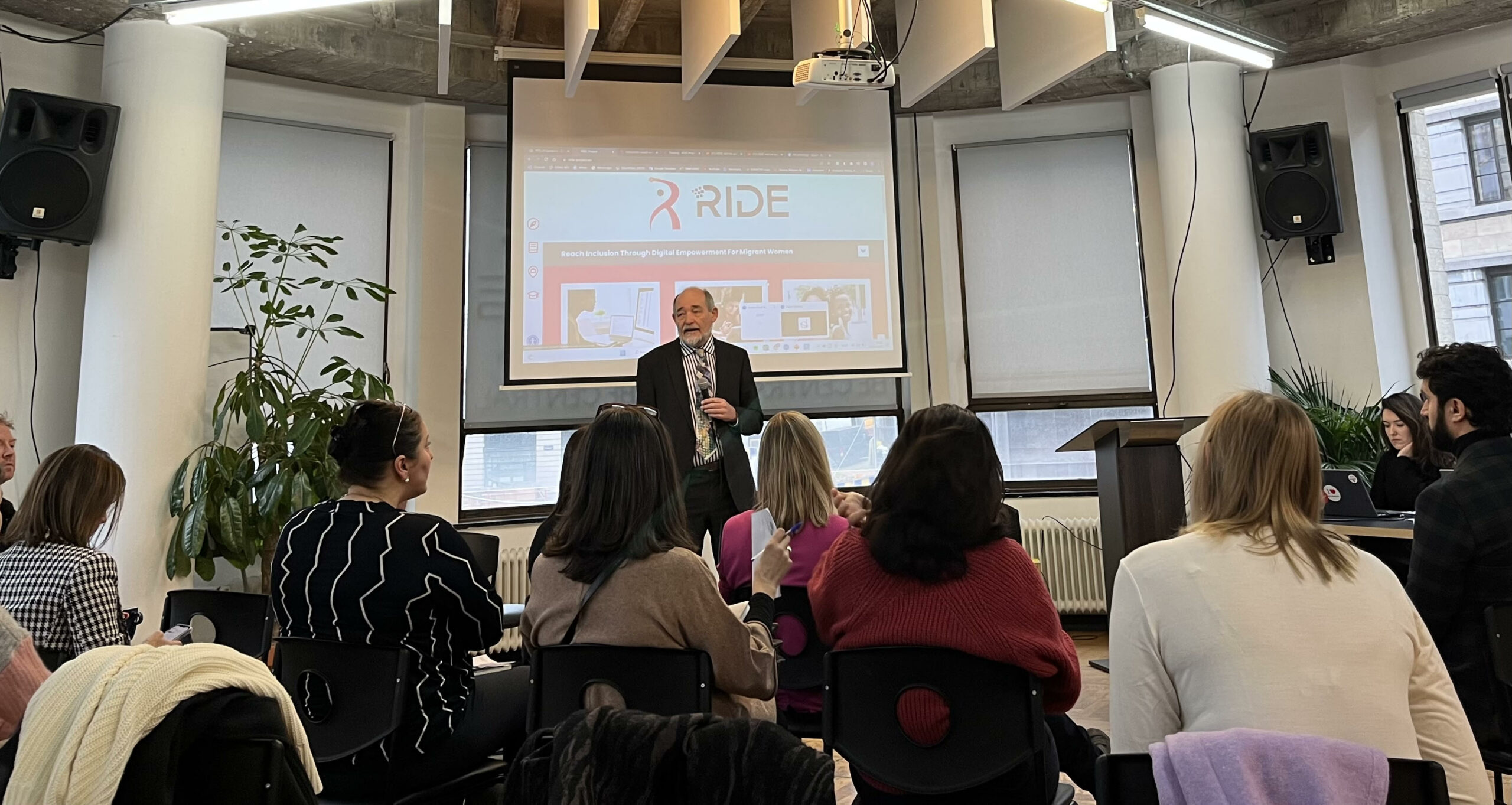 After running for two years, the RIDE project (Reach Inclusion Through Digital Empowerment For Migrant Women) concluded this month, with a closing event held in Brussels on 20 January 2023. Co-funded by the EU's Asylum, Migration and Integration Fund (AMIF), the project aimed at advancing the inclusion of migrant and refugee women in the digital labour market by organising training, mentoring and job fairs in six EU countries. Project partners, trainees of the programme and policy-makers gathered for the event to discuss the outcomes, key takeaways, and future policy directions concerning the inclusion of migrant and refugee women in the digital labour market.
The RIDE project in numbers:
400 hours of mentoring and coaching per country

60 participants taking part in training by Cisco or The Code to Change
6 Job Placement Fairs
200+ migrant women attending Job Placement Fairs
40+ companies attending Job Placement Fairs
The final event featured a forum discussion with the participation of the project partners: Diesis Network, UNITEE, European Network of Migrant Women, Code to Change, the Bulgarian Chamber of Commerce and Industry, Litus Novum, Symplexis, Legacoopsociali, and Youth Included, supported by the CISCO Networking Academy's digital training programs for migrant women. During the full-day event, various discussions took place, including a panel discussion on the policies concerning migrant women and digital skills, titled "Exploring the policy landscape: the inclusion of migrant women in Europe's digital economy". Panelists included Tim Van Rie from the European Commission's Directorate-General for Employment, Social Affairs & Inclusion, Ursula Hoenich from the Commission's Directorate-General for Migration and Home Affairs, and Lina Konstantinopoulou from Eurochambers.
Throughout the day, a recurring theme mentioned by project partners and policy-makers was the need for personalised attention to the needs of this specific target group. A training programme that offers flexibility and empathy in adjusting the course to the needs of participants can lead to lower drop-out rates and a generally better experience for everyone, both participants and organisers. Courses that do not take the specific needs of migrant women into account, such as language barriers, cultural differences, and time restrictions, especially for mothers, might lead to preventing future involvement of migrant women in civil society initiatives altogether. Another interesting, recurring point was related to the RIDE project's job fairs. According to a survey issued by the European Commission, over 70% of businesses reported the lack of staff with adequate digital skills.
During the project implementation, companies and trainees participated in national job fairs for migrant women, which also showed the willingness of companies to adjust their offers to the needs of the migrant women. At the same time, partners pointed out that the companies needed guidance in recognising the best ways to accommodate the needs of migrant women, who do not present a homogeneous group and include a wide range of cultural backgrounds.
Moreover, Liane Adler from Litus Novum and Gabriela Dimitrova from the Bulgarian Chamber of Commerce and Industry reported that it had been easy to engage employers and get them to participate in the job fairs. Knowing the needs of both sides allowed Liane and Gabriela to create the best space and opportunity for employers and job seeking migrant women to meet and connect. By reaching out to migrant organisations and individuals through different channels, including social media, they were able to involve not only trainees from the RIDE programme but also migrant women that were new to RIDE. The overall outcome of the training, mentoring and job fairs was positive: several participants received a job or an internship offer, or could develop their network, skills and confidence. Indeed, just taking part in a job fair and sustaining an interview in a foreign language can be considered a great achievement, as Nora Giannakaki (Symplexis) highlighted.
One of the event highlights featured testimonials from RIDE trainees Alawia & Sara Sagaf Mashhor Alkaf from Bulgaria, Yulianti Kurnianingsih from Italy, and Valeriya Strekalovskaya from the Czech Republic. They each explained to the event participants how participating in the RIDE project and upskilling digitally empowered them to pursue new career goals.